Dublin to New York - from €29800
Offer valid from:

29 April 2021

till

24 October 2021

Travel period from:

01 October 2021

till

01 February 2022

Min number of days:

First sunday after departure of the first international flight sector

Max number of days:
Non-refundable:

Yes

Changes for a fee:

No
prices from
€29800

Delta Air Lines
This offer is the lowest possible rate for this destination. Choose your flight days to see if this offer is available for your travel period. Due to frequently changing airport taxes, some price differences may occur. If the offer is not available we will offer an alternative to this.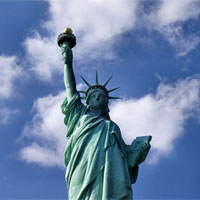 New York
New York is the most populous city in the United States and the center of the New York Metropolitan Area, one of the most populous urban agglomerations in the world. A global power city, New York exerts a significant impact upon commerce, finance, media, art, fashion, research, technology, education, and entertainment
Many districts and landmarks in New York City have become well known to its approximately 50 million annual visitors. Times Square, iconified as 'The Crossroads of the World', is the brightly illuminated hub of the Broadway theatre district, one of the world's busiest pedestrian intersections, and a major center of the world's entertainment industry.

The city hosts many world renowned bridges, skyscrapers, and parks. New York City's financial district, anchored by Wall Street in Lower Manhattan, has been called the world's leading financial center and is home to the New York Stock Exchange, the world's largest stock exchange by total market capitalization of its listed companies. Manhattan's real estate market is among the most expensive in the world. Manhattan's Chinatown incorporates the highest concentration of Chinese people in the Western Hemisphere. Providing continuous 24/7 service, the New York City Subway is one of the most extensive rapid transit systems worldwide. Numerous colleges and universities are located in New York, including Columbia University, New York University, and Rockefeller University, which have been ranked among the top 50 in the world.
*Source of information: Wikipedia.