Cairo International Airport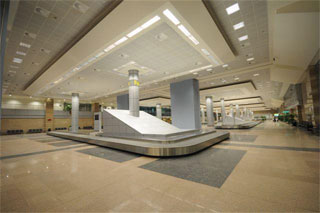 Cairo International Airport is the busiest airport in Egypt and the primary hub for EgyptAir, a member of the Star Alliance. The airport is located to the northeast of the city around 15 kilometres (9.3 mi) from the business area of the city and has an area of approximately 37 square kilometres (9,100 acres). Cairo International is the second busiest airport in Africa after OR Tambo International Airport in Johannesburg, South Africa. Over 45 passenger airlines use Cairo airport (including charter airlines) and 9 cargo airlines. EgyptAir is the largest operator at the airport, holding 61 percent of the departure slots in 2009. The airport has four terminals, with the third (and largest) opening on 27 April 2009 and the Seasonal Flights Terminal opening on 20 September 2011. Terminal 2 was closed in April 2010 for major renovation works to the building's structure and facilities. A third parallel runway replaced the crossing runway in 2010.
Location:
15 kilometres (9.3 mi) from the business area of the city
URL:
http://www.cairo-airport.com/
Airlines and destinations
Airlines
Destinations
Concourse
Aeroflot
Moscow-Sheremetyevo
1
Aegean Airlines
Athens (resumes 3 October 2013)
3
Afriqiyah Airways
Tripoli
1
Air Algerie
Algiers
1
Air France
Paris-Charles de Gaulle
1
Air Libya Tibesti
Benghazi
1
Alexandria Airlines
Charter: Alexandria, Aqaba, Luxor
1
Alitalia
Milan-Malpensa, Rome-Fiumicino
1
AlMasria Universal Airlines
Bergamo, Buraidah, Tabuk, Ta'if, Yanbu
Charter: Sandefjord, Beauvais, Doncaster/Sheffield, Aalborg Airport, Billund Airport, Tuzla Airport, Kirkenes Airport, Hoybuktmoen, Pristina International Airport Adem Jashari
1
Austrian Airlines


operated by Tyrolean Airways

Vienna
3
British Airways
London-Heathrow
1
EgyptAir
Abha, Abidjan, Abu Dhabi, Abuja, Accra, Addis Ababa, Alexandria-Borg el Arab, Algiers, Amman-Queen Alia, Amsterdam, Ankara, Asmara, Assiut, Aswan, Athens, Baghdad, Bahrain, Bangkok-Suvarnabhumi, Barcelona, Beijing-Capital, Beirut, Benghazi, Berlin-Schonefeld, Brussels, Budapest, Casablanca, Copenhagen, Dammam, Dar es Salaam, Doha, Dubai, Entebbe, Erbil, Frankfurt, Gassim, Geneva, Guangzhou, Harare, Hurghada, Istanbul-Ataturk, Jeddah, Johannesburg-OR Tambo, Juba, Kano, Khartoum, Kuala Lumpur, Kuwait, Lagos, Larnaca, London-Heathrow, Luxor, Madrid, Malta, Manchester, Medina, Milan-Malpensa, Moscow-Domodedovo, Mumbai, Munich, Muscat, Nairobi-Jomo Kenyatta, New York-JFK, Osaka-Kansai, Paris-Charles de Gaulle, Riyadh, Rome-Fiumicino, Sana'a, Sharjah, Sharm el-Sheikh, Sohag, Tokyo-Narita, Tripoli, Toronto-Pearson, Tunis, Vienna, Zurich
3
EgyptAir operated
by Air Sinai
Tel Aviv-Ben Gurion
3
EgyptAir operated
by EgyptAir Express
Abu Simbel, Alexandria-Borg el Arab, Aswan, Hurghada, Luxor, Marsa Alam, Sharm el-Sheikh
Seasonal: Athens, Mersa Matruh
3
Emirates
Dubai
1
Eritrean Airlines
Asmara, Khartoum
1
Ethiopian Airlines
Addis Ababa
3
Etihad Airways
Abu Dhabi
1
FlyGeorgia
Tbilisi
1
Gulf Air
Bahrain
1
Iraqi Airways
Baghdad, Sulaimaniyah
1
Jazeera Airways
Kuwait
1
Kenya Airways
Khartoum, Nairobi-Jomo Kenyatta
1
KLM
Amsterdam
1
Korean Air
Seasonal: Seoul-Incheon
1
Kuwait Airways
Kuwait
1
Libyan Airlines
Benghazi, Misrata, Sebha, Tripoli
1
LOT Polish Airlines
Warsaw-Chopin
3
Lufthansa
Frankfurt, Munich
3
Marsland Aviation
Khartoum
1
Middle East Airlines
Beirut
1
Nesma Airlines
Tabuk, Ta'if
1
Nile Air
Buraidah, Jeddah, Tabuk, Ta'if, Yanbu
1
Oman Air
Muscat
1
Palestinian Airlines
El Arish
Qatar Airways
Doha
1
RAK Airways
Ras al Khaimah
1
Royal Air Maroc
Casablanca
1
Royal Falcon
Amman-Queen Alia
1
Royal Jordanian
Amman-Queen Alia
1
Saudia
Abha, Dammam, Jeddah, Medina, Riyadh
1
Singapore Airlines
Dubai, Singapore
3
Sudan Airways
Khartoum, Port Sudan
1
Sun Air
Khartoum
1

Swiss International Air Lines

Zurich
3
Syrian Air
Aleppo, Damascus, Latakia
1
TAROM
Bucharest-Henri Coanda
1
Tunisair
Tunis
1
Turkish Airlines
Istanbul-Ataturk
3
Yemenia
Aden, Hodeidah, Sana'a, Ta'izz
1
*Source of information: Wikipedia.