Don Mueang International Airport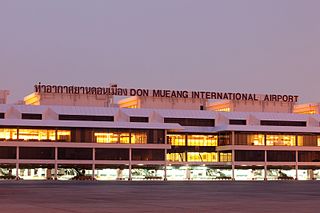 Don Mueang International Airport is one of two international airports serving Bangkok, Thailand, the other one being Suvarnabhumi Airport. It was officially opened as a Royal Thai Air Force base on 27 March 1914, although it had been in use earlier. Commercial flights began in 1924. Don Mueang Airport closed in 2006 following the opening of Bangkok's new Suvarnabhumi Airport, before opening again after renovation on 24 March 2007. Don Mueang was an important hub of Asia and the hub of Thai Airways International prior to its closure. At its peak, it served most air traffic for the entire continent, with 80 airlines operating 160,000 flights and handling over 38,000,000 passengers and 700,000 tons of cargo in 2005. It was then the 18th busiest airport in the world and 2nd in Asia by passenger volume. Don Mueang is a joint-use facility with the Royal Thai Air Force's Don Muang Royal Thai Air Force Base, and is the home of the RTAF 1st Air Division, which consists primarily of non-combat aircraft. Vibhavadi Rangsit Road is the main route linking the airport with downtown Bangkok. The Uttaraphimuk Elevated Tollway, running above Vibhavadi Rangsit Road, offers a more rapid option for getting into the city and connects to Bangkok's inner city expressway network. Originally, the only access was by rail service connecting with Hua Lamphong Railway Station in the center of Bangkok. The train station is across the highway and is linked with the airport by a pedestrian bridge. Many Bangkok BMTA bus lines stop around the airport, including lines no.29 from Thammasat University and Rangsit to Victory Monument and Hua Lamphong Railway Station, 59 from Rangsit to Sanam Luang, 95 Kor. from Rangsit to Bang Kapi, 187 from Klong 3 to Sipaya, 356 Green Line From Pak Kret to Don Mueang and Saphan Mai, 356 Red Line from Saphan Mai to Pak Kret, 504 from Rangsit to Bangkok Bridge, 510 from Thammasat University to Victory Monument, 538 from Techno Thanyaburi via Don Mueang Tollway to Ramathibodi Hospital and Priest Hospital, 554 from Rangsit via motorway to Suvarnabhumi Airport and 555 from Rangsit via Vibhavadi Rangsit and Army Reserve Force Students (Ror Dor) Center to Suvarnabhumi Airport.
Location:
Khet Don Mueang, Bangkok
URL:
http://donmueangairportthai.com/
*Source of information: Wikipedia.