Dubai International Airport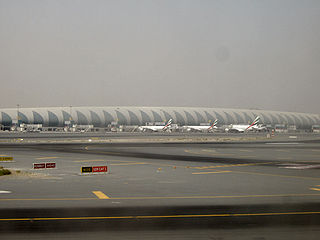 Dubai International Airport is an international airport serving Dubai. It is a major airline hub in the Middle East, and is the main airport of Dubai. The airport is the home base of Dubai's international airlines, Emirates, FlyDubai and Emirates SkyCargo; the Emirates hub is the largest airline hub in the Middle East; Dubai Airport is spread over an area of 8,640 acres (3,500 ha) of land. In 2012 DXB handled a record 57.7 million in passenger traffic, a 13.2% increase over 2011. This made it the 10th busiest airport in the world by passenger traffic. It is also the 3rd busiest airport in the world by international passenger traffic in 2012, surpassing Hong Kong International Airport in the global rankings. The new $4.5 billion Terminal 3 opened on 14 October 2008, and was built exclusively for the use of Emirates Airline. In April 2013, Qantas began flying Dubai International Airport and shares Terminal 3 with Emirates as part of their new alliance. Concourse A is also part of Terminal 3 opened on 2 January 2013. It is built exclusively for the Emirates Airbus A380, and Qantas will also utilize the concourse. Terminal 3 is the largest building in the world by floor space and the largest airport terminal in the world, increasing the total capacity of the airport to over 75 million passengers.
Location:
Al Garhoud district, 4 km (2.5 mi) northeast of Dubai
URL:
https://www.dubaiairports.ae/
Airlines and destinations
Airlines
Destinations
Concourse
Aeroflot
Moscow-Sheremetyevo
1
African Express Airways
Aden, Berbera, Mogadishu, Mombasa, Nairobi, Wajir
1
Afriqiyah Airways
Tripoli
1
Air Algerie
Algiers
1
Air Blue
Islamabad, Karachi, Lahore, Peshawar
1
Air China
Beijing-Capital
1
Air France
Paris-Charles de Gaulle
1
Air India
Chennai, Delhi, Cochin, Hyderabad, Kozhikode, Mumbai, Visakhapatnam
1
Air India Express
Amritsar, Jaipur, Lucknow, Kochi, Kozhikode, Mangalore, Mumbai, Pune, Thiruvananthapuram, Tiruchirapalli
2
Air Malta
Malta
1
airBaltic
Seasonal: Riga
1
Alexandria Airlines
Alexandria-El Nouzha
2
Ariana Afghan Airlines
Jeddah, Kabul, Kandahar, Kuwait
2
Arkefly
Seasonal: Amsterdam
1
Austrian Airlines
operated by Tyrolean Airways
Vienna
1
Azerbaijan Airlines
Baku
1
Belavia
Seasonal charter: Minsk-National
1
Biman Bangladesh Airlines
Dhaka, Chittagong, Sylhet
1
British Airways
London-Heathrow
1
Caspian Airlines
Ahwaz, Tabriz, Imam Khomeini
2
Cathay Pacific
Hong Kong, Jeddah
1
Cebu Pacific
Manila (begins 7 October 2013)
China Eastern Airlines
Kunming, Shanghai-Pudong
1
China Southern Airlines
Beijing-Capital, Guangzhou
1
Condor
Seasonal: Frankfurt, Dusseldorf
1
Daallo Airlines
Berbera, Djibouti
1
Delta Air Lines
Atlanta
1
Djibouti Air
Djibouti
1
EgyptAir
Alexandria-El Nouzha, Cairo
1
Emirates
Abidjan, Accra, Addis Ababa, Adelaide, Ahmedabad, Algiers, Amman-Queen Alia, Amsterdam, Athens, Auckland, Baghdad, Bahrain, Bangalore, Bangkok-Suvarnabhumi, Barcelona, Basra, Beijing-Capital, Beirut, Birmingham (UK), Brisbane, Buenos Aires-Ezeiza, Cairo, Cape Town, Casablanca, Chennai, Christchurch, Clark (begins 1 October 2013), Colombo, Copenhagen, Dakar, Dallas/Fort Worth, Damascus (temporarily suspended), Dammam, Dar es Salaam, Delhi, Dhaka, Doha, Dublin, Durban, Dusseldorf, Entebbe, Erbil, Frankfurt, Geneva, Glasgow-International, Guangzhou, Hamburg, Harare, Ho Chi Minh City, Hong Kong, Houston-Intercontinental, Hyderabad, Islamabad, Istanbul-Ataturk, Jakarta-Soekarno-Hatta, Jeddah, Johannesburg, Karachi, Khartoum, Kochi, Kolkata, Kozhikode, Kuala Lumpur, Kuwait, Lagos, Lahore, Larnaca, Lisbon, London-Gatwick, London-Heathrow, Los Angeles, Luanda, Lusaka, Lyon, Madrid, Mahe, Male, Malta, Manchester (UK), Manila, Mauritius, Medina, Melbourne, Milan-Malpensa, Moscow-Domodedovo, Mumbai, Munich, Muscat, Nairobi-Jomo Kenyatta, Newcastle, New York-JFK, Nice, Osaka-Kansai, Paris-Charles de Gaulle, Perth, Peshawar, Phuket, Prague, Rio de Janeiro-Galeao, Riyadh, Rome-Fiumicino, San Francisco, Sana'a, Sao Paulo-Guarulhos, Seattle/Tacoma, Seoul-Incheon, Shanghai-Pudong, Singapore, St. Petersburg, Stockholm-Arlanda (begins 4 September 2013), Sydney, Tehran-Imam Khomeini, Tripoli (resumes 1 September 2013), Thiruvananthapuram, Tokyo-Haneda, Tokyo-Narita, Toronto-Pearson, Tunis, Venice-Marco Polo, Vienna, Warsaw-Chopin, Washington-Dulles, Zurich
3
Enter Air
Katowice, Warsaw-Chopin
1
Eritrean Airlines
Asmara
2
Ethiopian Airlines
Addis Ababa
1
Euro-Asia Air
Atyrau
2
Fars Air Qeshm
Asalouyeh, Bandar Abbas, Chah Bahar, Kish, Lar, Qeshm, Zahedan
2
Finnair
Seasonal: Helsinki
1
flydubai
Abha, Addis Ababa, Ahmedabad, Aleppo (temporarily suspended), Alexandria-Borg el Arab, Amman-Queen Alia, Ankara, Ashgabat, Baghdad, Bahrain, Baku, Basra, Beirut, Belgrade, Bishkek, Bucharest, Chittagong, Colombo, Damascus (temporarily suspended), Dammam, Dhaka, Djibouti, Dnipropetrovsk (begins 18 September 2013), Doha, Donetsk, Dushanbe, Erbil, Gassim, Hyderabad, Ha'il, Hambantota, Istanbul-Sabiha Gokcen, Jeddah, Juba, Kabul, Karachi, Kathmandu, Kazan, Kharkiv, Khartoum, Kiev-Boryspil, Kochi, Krasnodar (begins 20 September 2013), Kuwait, Lucknow, Male, Mineralnye Vody, Multan, Muscat, Najaf, Odessa (begins 15 September 2013), Osh, Port Sudan, Riyadh, Rostov-on-Don (begins 13 September 2013), Salalah, Samara, Sana'a, Sialkot, Skopje, Sulaymaniyah, Tabuk, Ta'if, Tbilisi, Ufa, Volgograd (begins 13 September 2013), Yanbu, Yekaterinburg, Yerevan
2
FlyGeorgia
Tbilisi
1
Georgian Airways
Tbilisi
1
Gryphon Airlines
Bagram, Kandahar, Kuwait, Ras al Khaimah
2
Gulf Air
Bahrain
1
I-Fly
Charter: Moscow-Vnukovo
2
IndiGo
Chennai, Delhi, Hyderabad, Kochi, Mumbai, Thiruvananthapuram
1
Iran Air
Bandar Abbas, Isfahan, Shiraz, Tehran-Imam Khomeini
1
Iran Aseman Airlines
Abadan, Bandar Abbas, Bandar Lengeh, Bushehr, Gheshm, Lar, Mashhad, Shiraz, Kermanshah, Tehran-Imam Khomeini, Zahedan
2
Iraqi Airways
Baghdad, Basra, Erbil, Mosul, Najaf
1
Jazeera Airways
Bahrain, Kuwait
1
Jet Airways
Delhi, Mangalore, Mumbai
1
Jordan Aviation
Amman-Queen Alia, Aqaba
1
Jubba Airways
Berbera, Djibouti, Mogadishu
2
Jupiter Airlines
Arbil, Baghdad, Basra
2
Kabo Air
Kano
1
Kam Air
Kabul
1
Kenya Airways
Hong Kong, Nairobi-Jomo Kenyatta
1
Kish Air
Isfahan, Kish, Khasab, Qeshm, Tabriz
2
KLM
Amsterdam
1
Korean Air
Seoul-Incheon
1
Kurdistan Airlines
Arbil
Kuwait Airways
Kuwait, Muscat
1
Kyrgyzstan Aircompany
Bishkek
2
Libyan Airlines
Benghazi, Tripoli (all temporarily suspended)
1
Lufthansa
Frankfurt, Munich
1
Mahan Air
Tehran-Imam Khomeini
1
Malaysia Airlines
Kuala Lumpur
1
MIAT Mongolian Airlines
Charter: Ulan Bator
1
Middle East Airlines
Beirut
1
Mihin Lanka
Colombo
2
Nas Air
Dammam, Jeddah, Riyadh
1
Nasair
Asmara
2
National Airlines (N8)
Bagram, Kabul
1
Nordstar Airlines
Krasnoyarsk-Yemelyanovo
Seasonal: St Petersburg
1
Norwegian Air Shuttle
Copenhagen, Oslo-Gardermoen
Seasonal: Stockholm-Arlanda
1
Oman Air
Beirut, Kuwait, Muscat, Salalah
1

Pakistan International Airlines

Bahawalpur, Faisalabad, Islamabad, Karachi, Lahore, Multan, Peshawar, Quetta
1
Pegasus Airlines
Istanbul-Sabiha Gokcen
1
Philippine Airlines
operated by PAL Express
Manila (begins 1 November 2013)
TBA
Qantas
London-Heathrow, Melbourne, Sydney
3
Qatar Airways
Doha
1
Rossiya
Seasonal: St. Petersburg
1
Royal Brunei Airlines
Bandar Seri Begawan, Jeddah, London-Heathrow
1
Royal Jordanian
Amman-Queen Alia
Seasonal: Aqaba, Muscat
1
RwandAir
Kigali, Mombasa
1
Safi Airways
Kabul
1
Saudia
Dammam, Jeddah, Madinah, Riyadh
1
Shaheen Air International
Islamabad, Karachi, Lahore, Peshawar
1
SpiceJet
Ahmedabad, Delhi, Kochi, Mumbai
1
S7 Airlines
Novosibirsk
1
Singapore Airlines
Cairo, Singapore
1
Somon Air
Dushanbe, Jeddah
1
SriLankan Airlines
Colombo, Moscow-Domodedovo
1
Sudan Airways
Doha, Khartoum
1
Swiss International Air Lines
Muscat, Zurich
1
Syrian Air
Damascus
1
TAAG Angola Airlines
Luanda
2
Taban Air
Mashhad
2
TAROM
Bucharest-Henri Coanda
1
Tatarstan Airlines
Kazan
1
Thai Airways International
Bangkok-Suvarnabhumi
1
Toumai Air Tchad
N'djamena
2
Transaero Airlines
Charter:Moscow-Domodedovo, St Petersburg, Ufa
1
Transavia.com
Seasonal: Amsterdam
2
Travel Service Hungary
Budapest
2
TUIfly
Seasonal Hanover
2
Tunisair
Beirut, Tunis
1
Turkish Airlines
Ankara, Istanbul-Ataturk
1
Turkmenistan Airlines
Ashgabat
2
Ukraine International Airlines
Kiev-Boryspil
1
United Airlines
Doha, Washington-Dulles
1
United Airways
Dhaka
2
Ural Airlines
Chelyabinsk, Kazan, Krasnodar, Nizhny Novgorod, Samara, Ufa, Yekaterinburg
1
Uzbekistan Airways
Tashkent
1
Virgin Atlantic Airways
London-Heathrow
1
Yemenia
Aden, Al Mukalla, Jakarta-Soekarno-Hatta, Kuala Lumpur, Sana'a
1
*Source of information: Wikipedia.