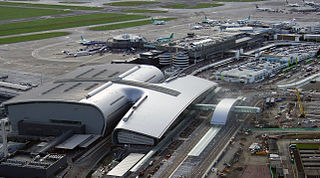 Dublin Airport is an international airport serving Dublin, Ireland and is operated by the Dublin Airport Authority. It is located 5.4 nmi (10.0 km; 6.2 mi) north of Dublin city in a once-rural area near Swords, in the county of Fingal, Ireland. In 2012, over 19 million passengers passed through the airport, making it the busiest of the state's airports by total passenger traffic, followed by Cork Airport and Shannon Airport. It also has the greatest traffic levels on the island of Ireland followed by Belfast International Airport, Cork, George Best Belfast City Airport and Shannon Airport. The airport has an extensive short and medium haul network, served by an array of carriers. In recent years, long haul connections to Dubai and Abu Dhabi have been launched and have proved very popular. Domestic services are offered to some regional Irish airports. There are approximately 50 daily departures from Dublin to all six London airports. Dublin is also one of only seven airports in the world to serve all six London Airports: Stansted, Luton, Gatwick, Heathrow, London City and Southend. Aer Lingus serves many popular US destinations, and has been able to add more thanks to the open skies deal. US legacy carriers also serve the airport from major US hubs. Etihad Airways operates a 10 times weekly service between the airport and Abu Dhabi and on 9 January 2012 Emirates began a daily direct service to Dubai. United States border preclearance services are available at the airport for US-bound passengers, making Dublin one of only two European airports with this facility (along with Shannon).
Location:
10.0 km (6.2 mi) north of Dublin city
URL:
http://www.dublinairport.com/
Airlines and destinations
Airlines
Destinations
Concourse
Aer Lingus
Alicante, Amsterdam, Barcelona, Berlin-Schonefeld, Birmingham, Bordeaux, Boston, Brussels, Budapest, Chicago-O'Hare, Copenhagen, Dusseldorf, Faro, Frankfurt, Fuerteventura, Geneva, Gran Canaria, Hamburg, Lanzarote, Lisbon, London-Gatwick, London-Heathrow, Lyon, Madrid, Malaga, Manchester, Milan-Linate, Milan-Malpensa, Munich, Nice, New York-JFK, Orlando, Paris-Charles de Gaulle, Prague, Rome-Fiumicino, Stockholm-Arlanda, Stuttgart, Tenerife-South, Vienna, Venice-Marco Polo, Warsaw-Chopin,Zurich
Seasonal: Agadir, Athens, Bilbao, Bologna, Burgas, Catania, Corfu, Dubrovnik, Helsinki, Ibiza, Izmir, Jersey, Krakow, Marseille, Naples, Palma de Mallorca, Perpignan, Santiago de Compostela, Toulouse, Verona
2
Aer Lingus Regional
operated by Aer Arann
Aberdeen, Birmingham, Blackpool, Bournemouth, Bristol, Cardiff, Edinburgh, Glasgow-International, Isle of Man, Kerry, London-Southend, Manchester (begins 1 July 2013)
Seasonal: Rennes
2
Air Canada
Seasonal: Toronto-Pearson (ends 30 September 2013)
1
Air Canada Rouge
Toronto-Pearson (begins 1 May 2014)
1
Air Contractors
Salzburg
Seasonal Charter: Dalaman, Dubrovnik, Heraklion, Lanzarote, Palma de Mallorca, Split (begins 29 June 2013), Toulouse, Zakynthos
1
Air Dolomiti
Seasonal Charter: Verona
1
Air Europa
Seasonal Charter: Tenerife-South
1
Air France
operated by CityJet
London-City, Paris-Charles de Gaulle
Seasonal: Brest (begins 29 June 2013)
1
Air Moldova
Seasonal: Chi?inau
1
Air Transat
Seasonal: Montreal-Trudeau, Toronto-Pearson
1
Albastar
Seasonal Charter: Palma de Mallorca, Reus
1
Alitalia
Seasonal Charter: Milan-Linate, Rome-Fiumicino
1
American Airlines
New York-JFK
Seasonal: Chicago-O'Hare
2
Arkia Israel Airlines
Seasonal: Tel Aviv-Ben Gurion
1
Avion Express
Seasonal Charter: Faro, Gran Canaria, Ibiza, Lanzarote, Tenerife-South
1
Blue Air
Bucharest
Seasonal: Bacau (ends 28 September 2013)
1
British Airways
London-Heathrow
1
Croatia Airlines
Seasonal Charter: Dubrovnik
1
Delta Air Lines
Atlanta, New York-JFK
2
Emirates
Dubai
2
Etihad Airways
Abu Dhabi
2
Flybe
Exeter, Southampton
Seasonal Charter: Salzburg, Verona
1
Flybe
operated by Loganair
Donegal
1
FlyNonstop
operated by Denim Air
Kristiansand (begins 31 October 2013)
1
Germania
Seasonal Charter: Faro, Malaga, Menorca
1
Germanwings
Seasonal: Cologne/Bonn
1
Iberia Express
Madrid
1
Icelandair
Seasonal Charter: Reykjavik-Keflavik
1
Jet2.com
Seasonal: Chambery
1
Lufthansa
Frankfurt
Seasonal: Munich
1
Lufthansa Regional
operated by Eurowings
Seasonal: Dusseldorf
1
Minoan Air
Oxford
1
Norwegian Air Shuttle
Copenhagen, Helsinki, Oslo-Gardermoen
1
Onur Air
Seasonal Charter: Antalya, Bodrum, Izmir
1
Ryanair
Alicante, Barcelona, Beauvais, Bergamo, Berlin-Schonefeld, Birmingham, Bologna, Bratislava, Bremen (resumes 18 September 2013), Bristol, Budapest, Bydgoszcz, Carcassonne, Charleroi, East Midlands/Nottingham, Edinburgh, Eindhoven, Faro, Fuerteventura, Gdansk, Glasgow-Prestwick, Gran Canaria, Hahn, Katowice, Kaunas, Krakow, Lanzarote, Leeds/Bradford, Liverpool, Lodz, London-Gatwick, London-Luton, London-Stansted, Lublin, Maastricht/Aachen, Madrid, Malaga, Malta, Manchester, Memmingen, Moss, Nantes, Newcastle upon Tyne, Pisa, Poznan, Riga, Rome-Ciampino, Rzeszow, Stockholm-Skavsta, Szczecin, Tallinn, Tenerife-South, Vilnius, Warsaw-Modlin, Wroclaw
Seasonal: Alghero, Biarritz, Girona, Grenoble, Ibiza, La Rochelle, Marseille, Murcia, Nice, Palermo, Palma de Mallorca, Porto, Reus, Rodez, Salzburg, Santander, Seville, Tours, Treviso, Turin, Valencia, Zadar
1
SATA International
Funchal
1
Scandinavian Airlines
Copenhagen, Oslo-Gardermoen, Stockholm-Arlanda
1
Scandinavian Airlines
operated by Blue1
Copenhagen
1
SmartWings
Seasonal: Prague
1

Swiss International Air Lines

Zurich
1
S7 Airlines
Seasonal: Moscow-Domodedovo
1
TAROM
Bucharest
1
Thomson Airways
Gran Canaria, Lanzarote, Sharm el-Sheikh, Tenerife-South (begins 1 November 2013)
Seasonal: Burgas, Corfu, Faro, Innsbruck, Larnaca, Malaga, Palma de Mallorca, Turin
1
Travel Service
Lanzarote
Seasonal Charter: Agadir, Faro, Heraklion, Palma de Mallorca
1
Tunisair
Monastir
1
Turkish Airlines
Istanbul-Ataturk
1
United Airlines
Newark, Washington-Dulles
2
US Airways
Philadelphia
Seasonal: Charlotte
2
*Source of information: Wikipedia.