George Best Belfast City Airport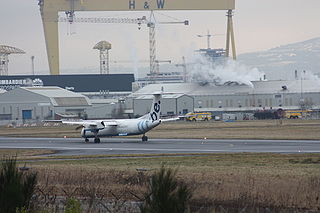 George Best Belfast City Airport is a single-runway airport in Belfast, County Antrim, Northern Ireland. Situated adjacent to the Port of Belfast it is 5 km from Belfast City Centre. It shares the site with the Short Brothers/Bombardier aircraft manufacturing facility. The airport began commercial operations in 1983. The airport was formerly known as "Belfast City Airport" until it was renamed in 2006 in memory of George Best, the professional footballer from Belfast. The airport handled over 2.7 million passengers in 2010, a record total for the airport, though the total fell to around 2.2 million in 2012. The airport is a major base for Flybe, which began operations at the airport in 1993 and is now the largest operator at Belfast City. Belfast City has a CAA public use aerodrome licence (number P862) that allows flights for the public transport of passengers or for flying instruction. In June 2012, BMI subsidiary Bmibaby ceased all routes from Belfast City, leading Flybe to increase schedule frequency on some routes.
Location:
Port of Belfast, 5 km from Belfast City Centre
URL:
http://belfastcityairport.com/
*Source of information: Wikipedia.