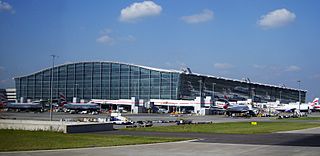 London Heathrow Airport is a major international airport serving London, England, United Kingdom. Located in the London Borough of Hillingdon, in West London, Heathrow is the busiest airport in the United Kingdom and the third busiest airport in the world (as of 2012) in terms of total passenger traffic, handling more international passengers than any other airport around the globe. It is also the busiest airport in Europe by passenger traffic and the third busiest by traffic movements. Heathrow is London's main airport, having replaced RAF Northolt and the earlier and better-known Croydon Airport, and together with Gatwick, Southend, Stansted, Luton and London City, London is the busiest city airport system in the world by passenger traffic (with 133,666,888 passengers travelling through the six airports); and second only to New York City in terms of traffic movements. Terminal 5 was officially dedicated by Queen Elizabeth II on 14 March 2008 and opened to passengers on 27 March 2008. Construction of a new Terminal 2 complex to replace the old terminal building and adjacent Queen's Building began in 2009 with the first phase expected to open in 2014. Terminals 3 and 4 underwent major refurbishments between 2007 and 2009. In November 2007, a consultation process began for the building of a new third runway and a sixth terminal, which was controversially approved on 15 January 2009 by UK Government ministers. The project was subsequently cancelled on 12 May 2010 by the Cameron Government.
Location:
22 km (14 mi) west of Central London
URL:
http://www.heathrowairport.com/
Airlines and destinations
Airlines
Destinations
Concourse
Aegean Airlines
Athens
1
Aer Lingus
Belfast-City, Cork, Dublin, Shannon
1
Aeroflot
Moscow-Sheremetyevo
4
Aeromexico
Mexico City
4
Air Algerie
Algiers
4
Air Astana
Almaty
4
Air Canada
Calgary, Edmonton, Halifax, Montreal-Trudeau, Ottawa, Toronto-Pearson, Vancouver
Seasonal: St. John's
3
Air China
Beijing-Capital
3
Air France
Paris-Charles de Gaulle
4
Air India
Delhi, Mumbai
4
Air Malta
Malta
4
Air Mauritius
Mauritius
4
Air New Zealand
Auckland, Los Angeles
1
Alitalia
Milan-Linate, Rome-Fiumicino
4
All Nippon Airways
Tokyo-Narita
3
American Airlines
Chicago-O'Hare, Dallas/Fort Worth, Los Angeles, Miami, New York-JFK, Raleigh/Durham
3
Arik Air
Lagos
4
Asiana Airlines
Seoul-Incheon
1
Austrian Airlines


operated by Tyrolean Airways

Vienna
1
Azerbaijan Airlines
Baku
4
Biman Bangladesh Airlines
Dhaka, Sylhet
4
British Airways
Amman-Queen Alia, Baku, Beirut, Belfast-City, Cairo, Dublin, Hanover, Luxembourg, Lyon, Marseille, Rotterdam, Tel Aviv-Ben Gurion
1
British Airways
Bangkok-Suvarnabhumi, Bucharest, Budapest, Gibraltar, Helsinki, Lisbon, Prague, Vienna, Warsaw-Chopin
3
British Airways
Aberdeen, Abu Dhabi, Abuja, Accra, Agadir, Alicante, Almaty, Amsterdam, Athens, Atlanta, Bahrain, Baltimore, Bangalore, Barcelona, Basel/Mulhouse, Beijing-Capital, Bergen, Berlin-Tegel, Bologna, Boston, Brussels, Buenos Aires-Ezeiza, Calgary, Cape Town, Chengdu (begins 22 September 2013), Chennai, Chicago-O'Hare, Copenhagen, Dallas/Fort Worth, Delhi, Denver, Doha, Dubai, Dusseldorf, Edinburgh, Entebbe, Frankfurt, Freetown, Geneva, Glasgow-International, Gothenburg-Landvetter, Grand Cayman, Hamburg, Hong Kong, Houston-Intercontinental, Hyderabad, Ibiza, Istanbul-Ataturk, Jeddah, Johannesburg-Tambo, Kiev-Boryspil, Kuwait, Lagos, Larnaca, Las Vegas, Leeds/Bradford, Los Angeles, Luanda, Lusaka, Madrid, Manchester, Marrakech, Mexico City, Miami, Milan-Linate, Milan-Malpensa, Monrovia, Montreal-Trudeau, Moscow-Domodedovo, Mumbai, Munich, Muscat, Nairobi, Nassau, New York-JFK, Newark, Newcastle upon Tyne, Nice, Oslo-Gardermoen, Palma de Mallorca, Paris-Charles de Gaulle, Paris-Orly, Philadelphia, Phoenix, Pisa, Providenciales, Rio de Janeiro-Galeao, Riyadh, Rome-Fiumicino, St. Petersburg, San Diego, San Francisco, Sao Paulo-Guarulhos, Seattle/Tacoma, Seoul-Incheon, Shanghai-Pudong, Singapore, Sofia, Stavanger, Stockholm-Arlanda, Stuttgart, Sydney, Tokyo-Haneda, Tokyo-Narita, Toronto-Pearson, Toulouse, Tripoli, Vancouver, Venice-Marco Polo, Washington-Dulles, Zagreb, Zurich
Seasonal: Gran Canaria (begins 26 October 2013)
5
Brussels Airlines
Brussels
1
Bulgaria Air
Sofia
4
Cathay Pacific
Hong Kong
3
China Eastern Airlines
Shanghai-Pudong
4
China Southern Airlines
Guangzhou
4
Croatia Airlines
Zagreb
Seasonal: Rijeka, Split
1
Cyprus Airways
Larnaca
1
Delta Air Lines
Atlanta, Boston, Detroit, Minneapolis/St. Paul, New York-JFK
4
EgyptAir
Cairo, Luxor
3
El Al
Tel Aviv-Ben Gurion
1
Emirates
Dubai
3
Ethiopian Airlines
Addis Ababa
3
Etihad Airways
Abu Dhabi
4
EVA Air
Bangkok-Suvarnabhumi, Taipei-Taoyuan
3
Finnair
Helsinki
3
Germanwings
Berlin-Tegel (begins 13 January 2014), Cologne/Bonn, Hamburg (begins 13 January 2014), Stuttgart
1
Gulf Air
Bahrain
4
Iberia
Madrid
5
Icelandair
Reykjavik-Keflavik
1
Iran Air
Tehran-Imam Khomeini
3
Japan Airlines
Tokyo-Narita
3
Jat Airways
Belgrade
4
Jet Airways
Delhi, Mumbai
4
Kenya Airways
Nairobi
4
KLM
Amsterdam
4
KLM


operated by KLM Cityhopper

Amsterdam
4
Korean Air
Seoul-Incheon
4
Kuwait Airways
Kuwait, New York-JFK
4
Libyan Airlines
Tripoli
3
LOT Polish Airlines
Warsaw-Chopin
1
Lufthansa
Berlin-Tegel (ends 12 January 2014), Dusseldorf, Frankfurt, Hamburg (ends 12 January 2014), Munich
1
Malaysia Airlines
Kuala Lumpur
4
Middle East Airlines
Beirut
3
Oman Air
Muscat
3

Pakistan International Airlines

Islamabad, Karachi, Lahore
3
Qantas
Dubai, Melbourne, Sydney
3
Qatar Airways
Doha
4
Royal Air Maroc
Casablanca, Marrakech, Tangier
4
Royal Brunei Airlines
Bandar Seri Begawan, Dubai
4
Royal Jordanian
Amman-Queen Alia
3
Saudia
Jeddah, Riyadh
4
Scandinavian Airlines
Copenhagen, Gothenburg-Landvetter, Oslo-Gardermoen, Stavanger, Stockholm-Arlanda
3
Singapore Airlines
Singapore
3
South African Airways
Johannesburg
1
SriLankan Airlines
Colombo
4
Swiss International Air Lines
Geneva, Zurich
1
TAM Airlines
Rio de Janeiro-Galeao, Sao Paulo-Guarulhos
1
TAP Portugal
Lisbon
Seasonal: Funchal
1
TAROM
Bucharest, Ia?i
4
Thai Airways International
Bangkok-Suvarnabhumi
3
Transaero Airlines
Moscow-Vnukovo
1
Tunisair
Tunis
4
Turkish Airlines
Istanbul-Ataturk
3
Turkmenistan Airlines
Ashgabat
3
United Airlines
Chicago-O'Hare, Los Angeles, San Francisco, Washington-Dulles
1
United Airlines
Houston-Intercontinental, Newark
4
US Airways
Charlotte, Philadelphia
1
Uzbekistan Airways
Tashkent
4
Virgin Atlantic Airways
Accra (ends 23 September 2013), Boston, Delhi, Dubai, Hong Kong, Johannesburg-Tambo, Lagos, Los Angeles, Miami, Mumbai, New York-JFK, Newark, San Francisco, Shanghai-Pudong, Sydney, Tokyo-Narita, Washington-Dulles
Seasonal: Cape Town, Chicago-O'Hare, Vancouver
3
Virgin Atlantic Airways
operated by Aer Lingus
Aberdeen, Edinburgh, Manchester
1
Vueling
A Coruna, Bilbao, Florence, Palma de Mallorca
3
*Source of information: Wikipedia.