Hong Kong International Airport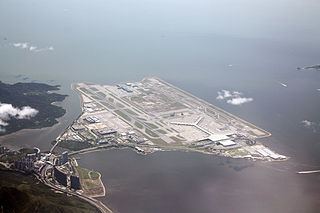 Hong Kong International Airport is the main airport in Hong Kong. It is located on the island of Chek Lap Kok, which is largely reclaimed for the construction of the airport itself. The airport has been commercially operational since 1998, replacing the former Kai Tak Airport, and is an important regional trans-shipment centre, passenger hub and gateway for destinations in Mainland China (with over 40 destinations) and the rest of Asia. The airport is currently the world's busiest cargo gateway and one of the world's busiest passenger airports. The Hong Kong International Airport is also home to one of the world's largest passenger terminal buildings (the largest when opened in 1998). It is operated by the Airport Authority Hong Kong, 24 hours a day, and is the primary hub for Cathay Pacific, Dragonair, Hong Kong Airlines, Hong Kong Express Airways and Air Hong Kong (cargo). The airport is also one of the Asian-Pacific cargo hubs for UPS Airlines.[1] It is a focus city for many airlines, including China Airlines and China Eastern Airlines, which serves 18 flights to Hong Kong per day (one direction) from 15 cities. Virgin Atlantic, United and Air India use Hong Kong as a stopover point for flights respectively from London to Sydney, from Tokyo to Singapore and Ho Chi Minh City as well as from India to Osaka and Seoul.
Location:
Chek Lap Kok, Hong Kong
URL:
http://www.hongkongairport.com
Airlines and destinations
Airlines
Destinations
Concourse
Aeroflot
Moscow-Sheremetyevo
1
Aeroflot


operated by Vladivostok Air

Vladivostok
2
Air Astana
Almaty
2
Air Busan
Busan
2
Air Canada
Toronto-Pearson, Vancouver
1
Air China
Beijing-Capital, Chengdu, Chongqing, Dalian, Tianjin
1
Air France
Paris-Charles de Gaulle
1
Air India
Delhi, Osaka-Kansai, Seoul-Incheon
1
Air Mauritius
Mauritius
1
Air New Zealand
Auckland
1
Air Niugini
Port Moresby
1
Air Seychelles
operated for Etihad Airways
Abu Dhabi , Mahe
1
AirAsia
Kota Kinabalu, Kuala Lumpur
2
AirAsia Philippines
Clark
2
All Nippon Airways
Nagoya-Centrair, Osaka-Kansai, Tokyo-Haneda
1
All Nippon Airways
operated by Air Japan
Tokyo-Narita
1
Asiana Airlines
Seoul-Incheon
1
Bangkok Airways
Bangkok-Suvarnabhumi, Koh Samui
2
Biman Bangladesh Airlines
Dhaka
1
British Airways
London-Heathrow
1
Cathay Pacific
Abu Dhabi, Adelaide, Amsterdam, Auckland, Bahrain, Bangkok-Suvarnabhumi, Beijing-Capital, Brisbane, Cairns, Cebu, Chennai, Chicago-O'Hare, Colombo, Delhi, Denpasar/Bali, Dubai, Frankfurt, Fukuoka, Ho Chi Minh City, Hyderabad, Jakarta-Soekarno-Hatta, Jeddah, Johannesburg, Karachi, Kuala Lumpur, London-Heathrow, Los Angeles, Manila, Melbourne, Milan-Malpensa, Moscow-Domodedovo, Mumbai, Nagoya-Centrair, New York-JFK, Osaka-Kansai, Paris-Charles de Gaulle, Penang, Perth, Riyadh, Rome-Fiumicino, San Francisco, Sapporo-Chitose, Seoul-Incheon, Shanghai-Pudong, Singapore, Surabaya, Sydney, Taipei-Taoyuan, Tokyo-Haneda, Tokyo-Narita, Toronto-Pearson, Vancouver
1
Cebu Pacific
Cebu, Clark, Iloilo, Manila, Kalibo
1
China Airlines
Jakarta-Soekarno-Hatta, Kaohsiung, Taipei-Taoyuan, Tainan(begins 18 July 2013)
1
China Eastern Airlines
Fuzhou, Hangzhou, Hefei, Huai'an Jinan, Kunming, Lijiang, Nanchang, Nanjing, Ningbo, Shanghai-Hongqiao, Shanghai-Pudong, Taiyuan, Wenzhou, Wuxi, Xi'an, Xuzhou, Yantai
1
China Southern Airlines
Beijing-Capital, Changchun, Guangzhou, Guilin, Meixian, Nanning, Shantou, Shenyang, Wuhan, Zhanjiang, Zhengzhou
Charter: Urumqi, Kashgar
1
City Airways
Seasonal charter: Bangkok-Don Mueang
2
Delta Air Lines
Tokyo-Narita
1
Dragonair
Bangalore, Beijing-Capital, Busan, Changsha, Chengdu, Chiang Mai, Chongqing, Clark, Da Nang, Dhaka, Fukuoka, Fuzhou, Guangzhou, Guilin, Haikou, Hangzhou, Hanoi, Jeju, Kaohsiung, Kathmandu, Kolkata, Kota Kinabalu, Kunming, Manila, Naha, Nanjing, Ningbo, Phnom Penh, Phuket, Qingdao, Sanya, Shanghai-Hongqiao, Shanghai-Pudong, Taichung, Taipei-Taoyuan, Wenzhou, Wuhan, Xi'an, Xiamen, Yangon, Zhengzhou
1
El Al
Tel Aviv-Ben Gurion
1
Emirates
Bangkok-Suvarnabhumi, Dubai
1
Ethiopian Airlines
Addis Ababa
1
EVA Air
Taipei-Taoyuan
1
Fiji Airways
Nadi
2
Finnair
Helsinki
1
Garuda Indonesia
Denpasar/Bali, Jakarta-Soekarno-Hatta
1
Hong Kong Airlines
Bangkok-Suvarnabhumi, Beijing-Capital, Changsha, Chengdu, Chongqing (ends 10 July 2013), Denpasar/Bali, Fuzhou, Guilin, Guiyang, Haikou, Male (resumes 10 July 2013)
Seasonal: Hailar, Hangzhou, Harbin, Hohhot, Naha, Nanjing, Hanoi, Phuket, Kota Kinabalu, Kunming, Sanya, Shanghai-Hongqiao, Shanghai-Pudong, Taipei-Taoyuan, Taiyuan, Xiamen
Seasonal Charter: Xuzhou
1
Hong Kong Express Airways
Beijing-Capital, Chongqing (begins 12 July 2013), Nanning, Sanya, Taichung
1
Hunnu Air
Ulaanbaatar
2
Japan Airlines
Tokyo-Haneda, Tokyo-Narita
1
Jeju Air
Busan, Seoul-Incheon
2
Jetstar Asia Airways
Singapore
2
Jet Airways
Delhi, Mumbai
2
Jin Air
Seoul-Incheon
2
Juneyao Airlines
Shanghai-Pudong
2
Kenya Airways
Dubai, Nairobi-Jomo Kenyatta
1
KLM
Amsterdam
1
Korean Air
Busan, Seoul-Incheon

1
Lufthansa
Frankfurt, Munich
1
Malaysia Airlines
Kota Kinabalu, Kuala Lumpur, Kuching
1
Mandala Airlines
Jakarta-Soekarno-Hatta (begins 25 July 2013)
1
Mandarin Airlines
Kaohsiung, Taichung
1
Mega Maldives
Seasonal: Male
1
MIAT Mongolian Airlines
Ulaanbaatar
2
Nepal Airlines
Kathmandu
1
Orient Thai Airlines
Bangkok-Suvarnabhumi
1

Pakistan International Airlines

Bangkok-Suvarnabhumi, Islamabad, Lahore
1
Palau Airways
Seasonal: Koror
2
Peach
Osaka-Kansai
2
Philippine Airlines
Manila
2
Philippine Airlines
operated by PAL Express
Cebu
2
Qantas
Brisbane, Melbourne, Sydney
1
Qatar Airways
Doha
1
Royal Brunei Airlines
Bandar Seri Begawan
1
Royal Jordanian
Amman-Queen Alia, Bangkok-Suvarnabhumi
2
S7 Airlines
Khabarovsk, Novosibirsk, Vladivostok, Irkutsk
2
Shanghai Airlines
Shanghai-Hongqiao
1
Shenzhen Airlines
Quanzhou
2
Sichuan Airlines
Chengdu, Yichang
1
Singapore Airlines
San Francisco, Singapore
1
South African Airways
Johannesburg
2
South East Asian Airlines
Clark
2
Spring Airlines
Chongqing, Hangzhou, Nanjing, Shanghai-Pudong, Shenyang, Shijiazhuang, Luoyang, Xiamen
2
SriLankan Airlines
Bangkok-Suvarnabhumi, Colombo
1

Swiss International Air Lines

Zurich
1
Thai AirAsia
Bangkok-Don Mueang, Phuket
2
Thai Airways International
Bangkok-Suvarnabhumi, Phuket, Seoul-Incheon, Taipei-Taoyuan
2
Tianjin Airlines
Seasonal: Ordos, Tianjin
1
Tiger Airways
Singapore
2
Tonlesap Airlines
Seasonal: Siem Reap
2
Transaero Airlines
Seasonal: Moscow-Domodedovo (resumes 30 June 2013)
1
Turkish Airlines
Istanbul-Ataturk
1
United Airlines
Chicago-O'Hare, Guam, Ho Chi Minh City, Newark, San Francisco, Singapore, Tokyo-Narita
1
Vietnam Airlines
Hanoi, Ho Chi Minh City
1
Virgin Atlantic Airways
London-Heathrow, Sydney
1
Xiamen Airlines
Quanzhou, Xiamen
1
*Source of information: Wikipedia.