Lanseria International Airport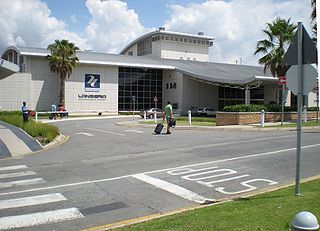 Lanseria International Airport is a privately owned international airport that is situated north of Randburg and Sandton to the north west of Johannesburg, South Africa. The airport can handle aircraft up to the size of the Boeing 757-300. The airport was officially opened by the Minister of Transport at the time, Hannes Rall, on 16 August 1974. Soon after its opening, Lanseria Airport hosted the Air Africa '75 (in 1975). When Nelson Mandela was released from prison in 1990 he was flown to Johannesburg landing at Lanseria Airport. On 15 November 2012 the airport was sold to a consortium consisting of Harith, an infrastructure development fund management company; the women's empowerment company Nozala; and the Government Employee Pension Fund, through the Public Investment Corporation.
Location:
Johannesburg, South Africa
URL:
http://www.lanseria.co.za/
*Source of information: Wikipedia.