Licenciado Adolfo Lopez Mateos International Airport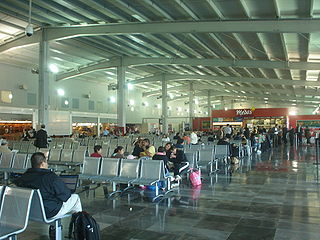 Licenciado Adolfo López Mateos International Airport is an international airport located at Toluca, State of Mexico, Mexico. It is part of the Mexico City Metropolitan Airport Group, and it's being improved and promoted to handle some traffic for the city of Toluca, but it mainly serves as a low-cost carrier airport for Mexico City, with service from airlines such as Interjet, Volaris and most recently Aeromexico Connect. The airport is named after President Adolfo López Mateos. It is considered as the main alternate airport for Mexico City International Airport since it is only 30 minutes or 40 km away from the Santa Fe financial district and has the longest runway of any airport in Mexico. Low-cost airlines serving the airport advertise it as Toluca/Mexico City. The airport went from serving 145,000 passengers in 2002, to 3,200,000 in 2007 and 4,300,000 in 2008. It used to be a hub for Volaris, but was later announced on March 8, 2011 that its hub in Toluca would switch to Guadalajara, leaving only two destinations that the airline flies to. According to official statistics provided by Secretariat of Communications and Transportation in 2011, the airport handled 1,485,627 passengers. The airport was reduced from four terminals to two after all domestic operations were handled at the Domestic Terminal. Before 2007, Interjet and Volaris had each one independent terminal, plus Terminal 1 (now Domestic Terminal) and the International Terminal.
Location:
Toluca, State of Mexico
URL:
http://www.aeropuertosmexico.com/
*Source of information: Wikipedia.