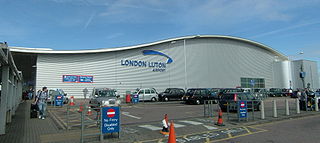 London Luton Airport (previously called Luton International Airport) is an international airport located 1.5 NM (2.8 km; 1.7 mi) east[1] of the town centre in the Borough of Luton in Bedfordshire, England and is 30.5 NM (56.5 km; 35.1 mi) north[1] of Central London. The airport is 2 mi (3.2 km) from Junction 10a of the M1 motorway. It is the fourth-largest airport serving the London area after Heathrow, Gatwick and Stansted, and is one of London's six international airports along with London City and Southend. In 2008, over 10 million passengers passed through the airport in a single year for the first time. However, passenger numbers were slightly lower during 2012 at 9.6 million, making Luton the fifth-busiest airport in the UK.[2] The airport serves as a base for EasyJet, Monarch, Thomson Airways and Ryanair. The vast majority of the routes served are within Europe, although there are some charter and scheduled routes to destinations in Northern Africa and Asia.
Location:
56.5 km (35.1 mi) north of Central London
URL:
http://www.london-luton.co.uk/en/
*Source of information: Wikipedia.