McCarran International Airport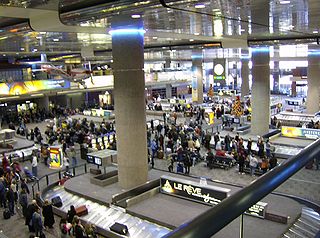 McCarran International Airport is the principal commercial airport serving Las Vegas and Clark County, Nevada, United States. The airport is five miles (8 km) south of downtown Las Vegas, in the unincorporated area of Paradise in Clark County. It covers 2,800 acres (1,100 ha) and has four runways. McCarran is owned by Clark County and operated by the Clark County Department of Aviation (DOA). McCarran Airport served as a hub for Great Lakes Airlines. It is a focus city for Allegiant Air and Southwest Airlines; and is the largest operation base for both Allegiant and Southwest. The airport became a crew and maintenance base for Spirit Airlines in February 2012. In 2012 McCarran ranked 24th in the world for passenger traffic, with 40,799,830 passengers passing through the terminal. The airport ranked 8th in the world for aircraft movements with 527,739 takeoffs and landings. McCarran and the DOA are self-sufficient enterprises, requiring no money from the County's general fund. The largest scheduled airlines at McCarran by passengers carried in the first 11 months of 2009 are Southwest Airlines (38.3%), US Airways/US Airways Express (11.8%), United Airlines/United Express (6.9%), Delta Air Lines/Delta Connection (5.6%), and American Airlines (5.5%).
Location:
Five miles (8 km) south of downtown Las Vegas
URL:
http://www.mccarran.com/
Airlines and destinations
Airlines
Destinations
Concourse
Aeromexico
Guadalajara, Mexico City, Monterrey, Puerto Penasco
3-E
Air Canada
Calgary, Montreal-Trudeau, Toronto-Pearson, Vancouver
3-E
AirTran Airways


operated by Southwest Airlines

Atlanta, Orange County
Seasonal: Baltimore
1-B
Alaska Airlines
Anchorage (begins December 19, 2013), Bellingham, Portland (OR), Seattle/Tacoma
3-E
Allegiant Air
Appleton, Bellingham, Bentonville/Fayetteville, Billings, Bismarck, Boise, Bozeman, Casper, Cedar Rapids/Iowa City, Chicago-Rockford, Colorado Springs, Des Moines, Duluth, Eugene, Fargo, Fresno, Grand Forks, Grand Island, Grand Junction, Grand Rapids, Great Falls, Honolulu, Idaho Falls, Kalispell, Laredo, McAllen (TX), Medford, Minot, Missoula, Monterey, Moline/Quad Cities, Pasco, Peoria, Phoenix/Mesa, Plattsburgh, Rapid City, Reno/Tahoe, Santa Maria (CA), Shreveport, Sioux Falls, Springfield/Branson, South Bend, Stockton, Wichita
1-D
American Airlines
Chicago-O'Hare, Dallas/Fort Worth, Los Angeles, Miami, New York-JFK
1-D
Arkefly
Seasonal: Amsterdam
3-E
British Airways
London-Gatwick, London-Heathrow
3-E
Condor
Frankfurt
3-E
Copa Airlines
Panama City
3-E
Delta Air Lines
Atlanta, Cincinnati, Detroit, Los Angeles, Memphis, Minneapolis/St. Paul, New York-JFK, Orlando, Salt Lake City, Seattle/Tacoma
1-D
Delta Connection


operated by SkyWest Airlines

Los Angeles, Salt Lake City
Seasonal: Seattle/Tacoma
1-D
Frontier Airlines
Denver
3-E
Hawaiian Airlines
Honolulu
3-E
Interjet
Monterrey, Toluca/Mexico City
3-E
JetBlue Airways
Boston, Long Beach, New York-JFK
3-E
Korean Air
Seoul-Incheon
3-E
Omni Air International
Honolulu
Seasonal: Anchorage
1-B
Southwest Airlines
Albany, Albuquerque, Amarillo, Atlanta, Austin, Baltimore, Birmingham (AL), Boise, Buffalo, Burbank, Chicago-Midway, Columbus (OH), Denver, Des Moines (begins September 29, 2013), Detroit, El Paso, Flint (begins August 11, 2013), Fort Lauderdale, Houston-Hobby, Indianapolis, Kansas City, Little Rock, Los Angeles, Louisville, Lubbock, Midland/Odessa, Milwaukee, Nashville, New Orleans, Oakland, Oklahoma City, Omaha, Ontario, Orange County, Orlando, Philadelphia, Phoenix, Pittsburgh, Portland (OR), Raleigh/Durham, Reno/Tahoe, Sacramento, St. Louis, Salt Lake City, San Antonio, San Diego, San Francisco, San Jose (CA), Seattle/Tacoma, Spokane, Tampa, Tucson, Tulsa, Wichita
Seasonal: Cleveland, Hartford/Springfield, Jacksonville (FL), Manchester (NH) (ends August 10, 2013), Norfolk/Virginia Beach, Providence
1-B, 1-C
Spirit Airlines
Baltimore, Chicago-O'Hare, Dallas/Fort Worth, Denver, Detroit, Houston-Intercontinental, Los Angeles, Minneapolis/St. Paul, Oakland, Philadelphia, Portland (OR), San Diego
Seasonal: Fort Lauderdale
1-B, 1-A
Sun Country Airlines
Minneapolis/St. Paul
Seasonal: Lansing
3-E
Sunwing Airlines
Toronto-Pearson
3-E
Thomas Cook Airlines
Glasgow-International, Manchester (UK)
3-E
United Airlines
Chicago-O'Hare, Cleveland, Denver, Houston-Intercontinental, Los Angeles, Newark, San Francisco, Washington-Dulles
3-D
United Express


operated by SkyWest Airlines

Denver, Fresno, Los Angeles, Palm Springs, San Francisco
3-D
US Airways
Charlotte, Philadelphia, Phoenix, Washington-National
1-A
US Airways Express


operated by SkyWest Airlines

Phoenix
1-A
Virgin America
Los Angeles, New York-JFK, San Francisco
3-E
Virgin Atlantic Airways
London-Gatwick, Manchester (UK)
3-E
Volaris
Guadalajara, Mexico City
3-E
WestJet
Calgary, Edmonton, Montreal-Trudeau, Toronto-Pearson, Vancouver, Winnipeg
Seasonal: Kelowna, Ottawa, Regina, Saskatoon, Victoria
3-E
XL Airways France
Seasonal: Paris-Charles de Gaulle
3-E
*Source of information: Wikipedia.