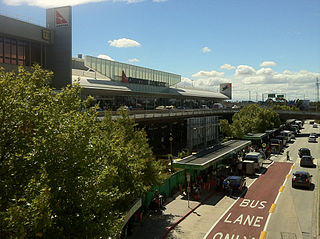 Melbourne Airport, also known as Tullamarine Airport, is the primary airport serving the city of Melbourne, and the second busiest airport in Australia. It was opened in 1970 to replace the nearby Essendon Airport. Melbourne Airport is the sole international airport of the four airports serving the Melbourne metropolitan area. The Melbourne–Sydney air route is the fifth most-travelled passenger air route in the world[6] and the second busiest in the Asia Pacific region. The airport features direct flights to 33 destinations in all states and territories of Australia in addition to numerous destinations in Oceania, Asia, Africa, Europe and North America. Melbourne is the most common destination for the airports of five of Australia's seven other capital cities.N1 Melbourne serves as a major hub for Qantas and Virgin Australia, while Jetstar Airways and Tiger Airways Australia utilise the airport as home base. Melbourne is the busiest airport for international export freight as of August 2011, while second busiest for import freight. Domestically, Melbourne serves as headquarters for Australian air Express and Toll Priority and handles more domestic freight than any other airport in the nation.
Location:
23 km (14 mi) from the city centre
URL:
http://melbourneairport.com.au/
Airlines and destinations
Airlines
Destinations
Concourse
Air China
Beijing-Capital, Shanghai-Pudong
2
Air New Zealand
Auckland, Christchurch, Wellington
Seasonal: Dunedin, Queenstown
2
Air Vanuatu
Seasonal: Port Vila
2
AirAsia X
Kuala Lumpur
2
Cathay Pacific
Hong Kong
2
China Eastern Airlines
Shanghai-Pudong
2
China Southern Airlines
Guangzhou
2
Emirates
Auckland, Dubai, Kuala Lumpur, Singapore
2
Etihad Airways
Abu Dhabi
2
Fiji Airways
Nadi
2
Garuda Indonesia
Denpasar, Jakarta-Soekarno-Hatta
2
Jetstar Airways
Adelaide, Ballina, Brisbane, Cairns, Darwin, Gold Coast, Hamilton Island, Hobart, Launceston, Newcastle, Perth, Sunshine Coast, Sydney, Townsville
1
Jetstar Airways
Auckland, Bangkok-Suvarnabhumi, Beijing-Capital, Christchurch, Denpasar, Honolulu, Queenstown, Singapore
2
Malaysia Airlines
Kuala Lumpur
2
Philippine Airlines
Manila
2
Qantas
Adelaide, Alice Springs, Brisbane, Broome, Cairns, Canberra, Darwin, Hobart, Karratha, Perth, Port Hedland, Sydney
1
Qantas
Dubai, Hong Kong, London-Heathrow, Los Angeles, Singapore
Seasonal: Queenstown
2
Qantas operated by Jetconnect
Auckland, Wellington
2
Qantas operated by QantasLink
Adelaide, Canberra, Devonport, Hobart, Launceston, Mildura
1
Qatar Airways
Doha
2
Regional Express Airlines
Albury, Burnie/Wynyard, King Island, Merimbula, Mildura, Mount Gambier, Wagga Wagga
3
Royal Brunei Airlines
Bandar Seri Begawan
2
Sichuan Airlines
Chengdu
2
Singapore Airlines
Singapore
2
Thai Airways International
Bangkok-Suvarnabhumi
2
Tiger Airways Australia
Adelaide, Alice Springs, Brisbane, Cairns Gold Coast, Hobart, Mackay, Perth, Sunshine Coast, Sydney
4
United Airlines
Los Angeles
2
Vietnam Airlines
Ho Chi Minh City
2
Virgin Australia
Adelaide, Brisbane, Cairns, Canberra, Coffs Harbour, Darwin, Gold Coast, Hamilton Island (begins 15 August 2013), Hobart, Launceston, Mildura, Newcastle, Perth, Sunshine Coast, Sydney
3
Virgin Australia
Auckland, Christchurch, Denpasar, Los Angeles, Nadi
Seasonal: Dunedin
2
Virgin Australia Regional Airlines
Kalgoorlie, Perth
3
*Source of information: Wikipedia.