Oakland International Airport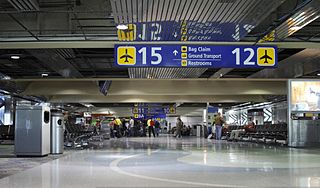 Oakland International Airport (Metropolitan Oakland International Airport) is a public airport five miles south of downtown Oakland, in Alameda County, California, United States. It is owned by the Port of Oakland. It is one of three international airports in the San Francisco Bay Area, The airport has service to destinations in the United States, as well as Mexico, Europe and Cargo flights go to Asia and elsewhere. The top five airlines by passenger count between February 2012-January 2013 were Southwest Airlines (69.90%), Alaska Airlines (7.22%), JetBlue Airways (4.99%), Allegiant (3.11%), Skywest (2.77%). Between February 2012-January 2013, 9,650,000 million people traveled through OAK. Passengers at the airport peaked in 2007 at 14.6 million and declined to 9.3 million in 2011.[7] An advantage of OAK over SFO is OAK's history of a high, on-time arrival percentage, despite many days of rainy and foggy weather in each city. In 2009 OAK had the highest on-time arrival percentage among the 40 busiest North American airports.
Location:
5 miles south of downtown Oakland, in Alameda County, California
URL:
http://www.oaklandairport.com/
Airlines and destinations
Airlines
Destinations
Concourse
Alaska Airlines
Honolulu, Kahului, Kailua-Kona, Lihue, Seattle/Tacoma
1
Alaska Airlines operated by Horizon Air
Portland (OR), Seattle/Tacoma
1
Allegiant Air
Bellingham, Eugene, Idaho Falls, Kalispell/Glacier Park, Missoula, Montrose, Phoenix/Mesa, Provo
Seasonal: Palm Springs
1
Arkefly
Seasonal: Amsterdam
1
Delta Air Lines
Salt Lake City
1
Delta Connection operated by SkyWest Airlines
Los Angeles, Salt Lake City
1
Hawaiian Airlines
Honolulu, Kahului
1
JetBlue Airways
Long Beach, New York-JFK
Seasonal: Boston, Washington-Dulles
1
SATA International
Seasonal: Terceira
1
Southwest Airlines
Albuquerque, Austin, Boise, Burbank, Chicago-Midway, Denver, Houston-Hobby, Las Vegas, Los Angeles, Ontario, Orange County, Phoenix, Portland (OR), Salt Lake City, San Diego, Seattle/Tacoma, Spokane
Seasonal: Kansas City
2
Spirit Airlines
Dallas/Fort Worth, Las Vegas
1
US Airways
Phoenix
1
US Airways Express operated by Mesa Airlines
Phoenix
1
Volaris
Guadalajara
Seasonal: Mexico City
1
*Source of information: Wikipedia.