Orlando Sanford International Airport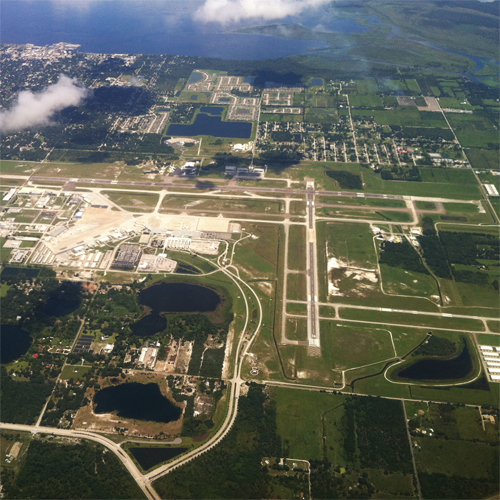 Orlando-Sanford International Airport is a public commercial air service airport in Sanford, Florida, near Orlando. It was originally constructed as a military installation known as Naval Air Station Sanford that was in operation as a Master Jet Base for carrier-based attack and reconnaissance aircraft until 1969. Due to heavy flight training operations at the airport, it is consistently in the top 30 busiest airports in the world in terms of total flight operations (takeoff and landings). It functions as the Orlando area's secondary commercial airport, but is located farther away from downtown Orlando and the attraction areas of Walt Disney World, Universal Studios Florida and SeaWorld Orlando than the larger, primary airport, Orlando International Airport. The airport is owned by the Sanford Airport Authority and managed by TBI plc, one of the world's leading airport operators, which owns London Luton Airport, Cardiff Airport, and Belfast International Airport in the United Kingdom, as well as Stockholm-Skavsta Airport in Sweden, and operates airports in South America. Because of that affiliation, Orlando Sanford International Airport is served primarily by British charter air carriers servicing the European market for leisure travel to Central Florida. TBI is also the provider of ground handling services for airlines. Although it is primarily a landing point for European travel, Sanford is also the second largest focus city for Las Vegas-based Allegiant Air.
Location:
Sanford, Florida
URL:
http://www.orlandosanfordairport.com/
Airlines and destinations
Airlines
Destinations
Terminal
Allegiant Air
Allentown/Bethlehem/Easton, Appleton/Green Bay, Bangor, Belleville/St. Louis, Bloomington/Normal, Cedar Rapids, Chattanooga, Chicago-Rockford, Columbus-Rickenbacker, Des Moines, Duluth, Elmira/Corning, Fargo, Fort Wayne, Gary/Chicago (ends August 10, 2013), Grand Forks, Grand Rapids, Greensboro, Greenville/Spartanburg, Hagerstown (MD), Harrisburg, Huntington (WV), Knoxville, Lansing, Lexington, Little Rock, Moline/Quad Cities, Newport News/Williamsburg, Niagara Falls, Northwest Arkansas, Owensboro, Plattsburgh, Roanoke, Sioux Falls, South Bend, Toledo, Tri-Cities (TN), Wilkes-Barre/Scranton, Youngstown (OH)
Seasonal: Laredo, McAllen, Shreveport
B
Arkefly
Amsterdam
A
Icelandair
Seasonal: Reykjavik-Keflavik
B
Monarch Airlines
London-Gatwick, Manchester (UK)
Seasonal: Glasgow-International
A

Thomas Cook Airlines

Manchester (UK)
Seasonal: Belfast-International, Glasgow-International, London-Gatwick
A
Thomson Airways
Birmingham (UK), London-Gatwick, Manchester (UK)
Seasonal: Bristol, East Midlands, Glasgow-International, Newcastle upon Tyne
Charter: Edinburgh
A
Vision Airlines
Gulfport/Biloxi
B
*Source of information: Wikipedia.