Sheremetyevo International Airport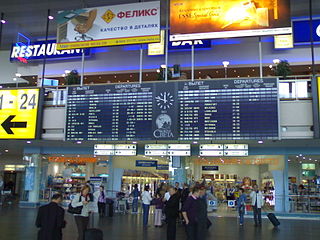 Sheremetyevo International Airport is an international airport located in Khimki, Moscow Oblast, Russia, 29 km (18 mi) north-west of central Moscow. It is a hub for the passenger operations of the Russian international airline Aeroflot, and one of the three major airports serving Moscow along with Domodedovo International Airport and Vnukovo International Airport. It is now the 2nd largest airport in Russia after Domodedovo. In 2012, the airport handled 26,188,000 passengers and 228,868 aircraft movements. Sheremetyevo International Airport currently has four operating passenger terminals and one special terminal reserved for the use of private and business aviation. The airport's terminals are divided into two groups based on geographical location, these are the north and south terminal areas. The two terminal areas are linked by regular internal and external bus services.
Location:
29 km (18 mi) north-west of central Moscow
URL:
http://svo.aero/en/
Airlines and destinations
Airlines
Destinations
Concourse
Adria Airways
Ljubljana
F
Aeroflot
Anapa, Antalya, Astrakhan, Athens, Barnaul, Beirut, Berlin-Schonefeld, Bishkek, Bucharest-Henri Coanda, Cairo, Cancun, Chelyabinsk, Copenhagen, Dresden, Dusseldorf, Eilat-Ovda, Frankfurt, Hamburg, Hanoi, Hanover, Havana, Helsinki, Ho Chi Minh City, Hurghada, Irkutsk, Istanbul-Ataturk, Kaliningrad, Kazan, Kemerovo, Khabarovsk, Krasnodar, Krasnoyarsk-Yemelyanovo, London-Heathrow, Los Angeles, Magnitogorsk, Miami, Milan-Malpensa, Mineralnye Vody, Minsk-National, Munich, New York-JFK, Nizhnekamsk, Nizhnevartovsk, Nizhny Novgorod, Novokuznetsk, Novosibirsk, Odessa, Omsk, Orenburg, Paris-Charles de Gaulle, Perm, Petropavlovsk-Kamchatsky, Punta Cana, Riga, Rome-Fiumicino, St. Petersburg, Samara, Seoul-Incheon, Sharm el-Sheikh, Simferopol, Sochi, Stockholm-Arlanda, Stuttgart, Surgut, Tallinn, , Tokyo-Narita, Tomsk, Toronto-Pearson, Tyumen, Ufa, Ulan Bator, Venice-Marco Polo, Vilnius, Vladivostok, Volgograd, Warsaw, Washington-Dulles, Yakutsk, Yekaterinburg, Yerevan, Yuzhno-Sakhalinsk, Zurich
Seasonal: Gelendzhik, Innsbruck

D
Aeroflot
Baku, Barcelona, Dubai, Guangzhou, Madrid, Malaga, Nice, Oslo-Gardermoen, Tenerife-South, Thessaloniki, Vienna, Zagreb
Seasonal: Split, Tivat
E
Aeroflot
Amsterdam, Bangkok-Suvarnabhumi, Beirut, Beijing-Capital, Belgrade, Bologna, Brussels, Budapest, Delhi, Dnipropetrovsk, Donetsk, Kharkiv, Krakow, Geneva, Hong Kong, Karlovy Vary, Kiev-Boryspil, Larnaca, Male, Prague, Shanghai-Pudong, Sofia, Tashkent, Tehran-Imam Khomeini, Warsaw-Chopin
Seasonal: Dubrovnik, Goa, Denpasar/Bali, Phuket, Salzburg
Charter Burgas, Chambery, Heraklion, Rhodes, Varna, Verona
F
Aeroflot


operated by Donavia

Mineralnye Vody, Rostov-on-Don, Stavropol
D
Aeroflot


operated by Orenair

Irkutsk, Khabarovsk, Krasnodar
D
Aeroflot


operated by Vladivostok Air

Abakan, Blagoveshchensk, Chita, Ulan-Ude
D
Air Algerie
Algiers
C
Air Astana
Almaty, Astana, Atyrau
E
Air China
Beijing-Capital
F
Air France
Marseille, Paris-Charles de Gaulle, Paris-Orly
E
Air Malta
Malta
F
Air One
Seasonal: Catania, Pisa
C
airBaltic
Riga
E
Alitalia
Milan-Malpensa, Rome-Fiumicino
D

Ariana Afghan Airlines

Kabul
C
Bulgaria Air
Sofia
Seasonal: Burgas, Varna
F

China Eastern Airlines

Shanghai-Pudong
F

China Southern Airlines

Guangzhou, Urumqi
F
Cyprus Airways
Larnaca
F
Czech Airlines
Karlovy Vary, Prague
F
Delta Air Lines
New York-JFK
D
Estonian Air
Tallinn
E
Finnair
Helsinki
D
Hainan Airlines
Beijing-Capital
F
Jat Airways
Belgrade
F
KLM
Amsterdam
E
Korean Air
Seoul-Incheon
D
LOT Polish Airlines
Warsaw-Chopin
F
MIAT Mongolian Airlines
Berlin-Tegel, Ulan Bator
F
Nordavia
Arkhangelsk, Murmansk, Naryan-Mar, Syktyvkar
D
Nordwind Airlines
Seasonal Charter: Alicante, Antalya, Barcelona, Catania, Cagliari, Enfidha, Hurghada, Ibiza, Malaga, Monastir, Olbia, Palma de Mallorca, Palermo, Sharm el-Sheikh
C
Orenair
Charter: Agadir, Antalya, Bangkok-Suvarnabhumi, Cancun, Dalaman, Dubai, Hurghada, Marsa Alam, Mombasa, Pardubice, Phuket, Punta Cana, Sharjah, Sharm el-Sheikh, Taba
C
Royal Air Maroc
Casablanca
E
Scandinavian Airlines
Copenhagen, Stockholm-Arlanda
D
Transaero Airlines
Antalya, Hurghada, Phuket, Sharm el-Sheikh
Seasonal: Punta Cana
Charter: Burgas, Enfidha, Rhodes, Varna
F

Ukraine International Airlines

Kiev-Boryspil
E
*Source of information: Wikipedia.