Viracopos International Airport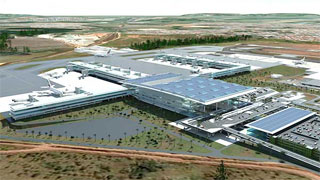 Viracopos–Campinas International Airport, also known as Viracopos International Airport, is an international airport serving Campinas, Brazil. On 6 January 1987, the airport name was officially normalized to its present form. It is named after the neighborhood where it is located. In 2012 the airport was ranked 7th in terms of transported passengers, 9th, in terms of aircraft operations, and 2nd in terms of cargo handled in Brazil, placing it amongst the busiest airports in the country. It is no longer operated by Infraero, having been conceded to Consórcio Aeroportos Brasil in 2012.
Location:
Campinas, Brazil
URL:
http://www.viracopos.com/
*Source of information: Wikipedia.