Vnukovo International Airport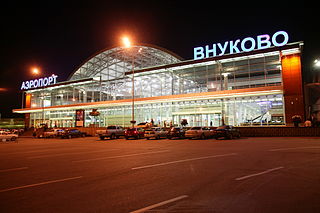 Vnukovo International Airport is a dual runway international airport located 28 kilometres (17 mi) southwest from the centre of Moscow, Russia. It is one of three major airports serving Moscow (along with Domodedovo International Airport and Sheremetyevo International Airport). In 2010 the airport handled 9.46 million passengers, representing a 22.5% increase over 2009.[3] It is the 4th busiest airport in Russia. Vnukovo Airport was opened and used for military operations during the Second World War, but became a civilian facility after the war. Vnukovo is the oldest of Moscow's operating airports. The prospective development programme is intended to last until the year 2015 and is aimed at transforming Vnukovo International into a highly competitive air transportation hub of international significance – one that would offer a comprehensive range of quality services to both its passengers and its tenant carriers.
Location:
28 kilometres (17 mi) southwest from the centre of Moscow
URL:
http://www.vnukovo.ru/eng
Airlines and destinations
Airlines
Destinations
Concourse
Aeroflot


operated by Rossiya

St. Petersburg
A
Aigle Azur
Paris–Orly
A
Bluebird Airways
Charter: Heraklion
B
Gazpromavia
Beloyarsky, Makhachkala, Nadym, Novy Urengoy, St. Petersburg, Sovetsky, Tyumen, Ukhta
A
Gazpromavia
Nukus
B
Georgian Airways
Kutaisi, Tbilisi
A
Germanwings
Cologne/Bonn, Hamburg (begins 27 October 2013), Stuttgart
B
Grozny Avia
Grozny, Nalchik
A
Hamburg Airways
Charter: Braunschweig
B
I-Fly
Charter: Antalya, Bangkok–Suvarnabhumi, Barcelona, Burgas, Colombo, Dubai, Hurghada, Phuket, Rimini, Salzburg, Sharm el-Sheikh, Tenerife–South
B
Lufthansa
Berlin–Tegel, Dusseldorf, Frankfurt, Hamburg (ends 26 October 2013)
A
Motor Sich Airlines
Vinnytsia, Zaporizhia
B
Red Wings Airlines
Charter: Antalya, Barcelona, Hurghada, Sharm el-Sheikh
B

Severstal Air Company

Cherepovets
A
Syrian Air
Damascus
B
Transaero Airlines
Aktau, Almaty, Astana, Atyrau, Barcelona, Beijing-Capital (begins 28 October 2013), Cancun, Frankfurt, Karagandy, Kostanay, Krasnoyarsk–Yemelyanovo, Kiev–Zhulyany, Lisbon, London–Heathrow, Madrid, Miami, Male (begins 30 October 2013), Milan–Malpensa, New York–JFK, Novosibirsk, Novy Urengoy, Odessa,Omsk, Paris–Orly, Rimini, Rome–Fiumicino, Shymkent, St Petersburg, Tashkent, Tel Aviv–Ben Gurion, Toronto-Pearson (begins 2 November 2013), Venice–Marco Polo, Vienna, Yekaterinburg, Yerevan
Seasonal: Faro, Heraklion, Ibiza, Petropavlovsk-Kamchatsky, Rhodes
A
Turkish Airlines
Ankara, Antalya, Istanbul–Ataturk
A
UTair Aviation
Arkhangelsk, Astrakhan, Baku, Belgorod, Beloyarsky, Bratislava, Brno, Chelyabinsk, Hanover, Irkutsk, Kaliningrad, Kazan, Khanty-Mansiysk, Kiev–Zhulyany, Kirov, Kogalym, Krasnodar, Krasnoyarsk–Yemelyanovo, Kurgan, Kursk, Lviv, Magas, Magnitogorsk, Makhachkala, Mineralnye Vody, Minsk–National, Murmansk, Nalchik, Naryan-Mar, Nizhnekamsk, Nizhnevartovsk, Nizhny Novgorod, Novosibirsk, Noyabrsk, Nyagan, Odessa, Omsk, Perm, Riga, Rostov-on-Don, St. Petersburg, Samara, Sochi, Stavropol, Surgut, Tallinn, Tambov, Tashkent, Thessaloniki, Tomsk, Tyumen, Ufa, Ukhta, , Vilnius, Vladikavkaz, Volgograd, Voronezh, Yekaterinburg, Yoshkar-Ola
Seasonal: Anapa, Gelendzhik, Simferopol
A
UTair Aviation
Bukhara, Dushanbe, Fergana, Ganja, Nakhchivan, Samarkand
B
UTair Aviation


operated by UTair-Express

Syktyvkar, Ukhta, Usinsk
A
UTair Aviation


operated by UTair-Ukraine

Donetsk, Kharkiv, Kiev–Zhulyany, Krivyi Rih, Luhansk
A
Wizz Air Ukraine
Kiev–Zhulyany (begins 1 October 2013)
B
Yakutia Airlines
Anadyr, Blagoveshchensk, Bratsk, Dresden, Komsomolsk-on-Amur, Krasnodar, Magadan, Makhachkala, Neryungri, Pevek, Sochi, Yakutsk
Seasonal: Ulan-Ude
A
Yakutia Airlines
Charter: Barcelona, Heviz, Verona
B
*Source of information: Wikipedia.